Share
Often you're not planning a route for yourself, but for others. RouteXL is great for this. Use the Share button to share a route with friends, family or colleagues.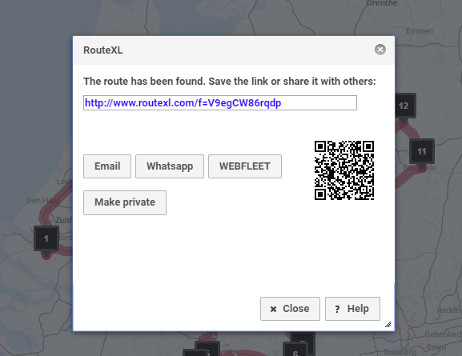 Sharing routes is done using the unique URL that is displayed in the Share dialog. Those who open the link will be shown the map with your route, all locations and directions. They will be able to use the route in all ways you are, e.g. print, download, navigate and re-share. The URL can be shared on most social media, such as Facebook, Twitter, Whatsapp and Email.
Public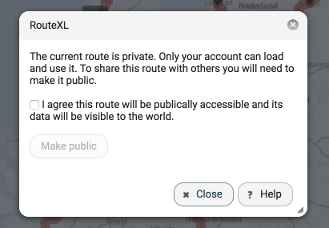 If you have an account and you are logged in, the routes you create are marked private by default. They can only be loaded with the same account they were created with. To be able to share the route with others, you will need to mark a route public. Public routes can be loaded by anyone with the unique URL.
If you no longer wish to share the route, you can make the route private again.
Routes that are created without an account or when not logged in, are marked public by default.
QR code
A QR code is added to scan and load a route to a smartphone or tablet immediately. Scanning QR codes is not supported by all devices and you may need to install a seperate QR scanning app. The QR code holds the same URL, and once scanned, it should be opened with the internet browser on the smartphone or tablet.
WEBFLEET
If you have a WEBFLEET account, you may send the itinerary to connected devices using the WEBFLEET button.