Navigate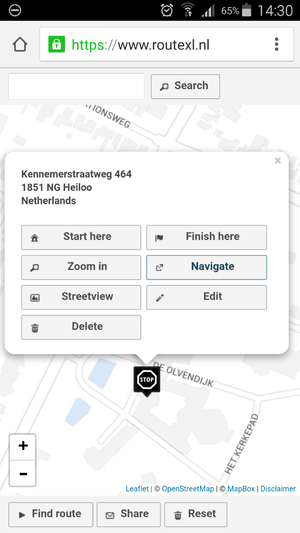 RouteXL is not a gps satellite navigation app by itself. Instead, it supports third-party apps and devices to navigate to your stops. You can use the native navigation app on your smartphone or tablet, or use a dedicated GPS device.
Smartphone
Select your preferred navigation app in the Options, go to Options > Routing > Navigate with. Once you've set the navigation app, follow these steps to navigate to a single destination:
1. Click a location on the map or select it in the Address list.
2. The location popup will appear on the map. Click the Navigate button.
3. Your navigation app will be launched. Follow the instructions.
Alternatively, use the Fulfillment dialog which holds the full list of your destinations for easy navigation.
Note: Not all devices have a navigation app or support this feature.
GPS
For GPS turn-by-turn navigation devices there are a number of Download file formats.
Due to the large number of brands, models and software versions there is no official support on gps navigation devices. However, these models were used during development and testing:
TomTom GO 5000
TomTom GO 6100
Garmin 2495LMT
For professional use, we have partnered with TomTom Telematics. Routes can be sent wireless over-the-air to their TomTom PRO models via WEBFLEET.
Examples
For some examples how to navigate your routes, check out our YouTube channel